Local Buzz:
"Two Men Rob O'Charley's, Tie Up Managers"

*BELLEVUE, Tenn. - A pair of restaurant managers had to struggle to call police Tuesday morning after being tied up during an armed robbery. The robbery happened around midnight at the O'Charley's on Coley Davis Court in Bellevue. Two male suspects dressed in black with black pantyhose over their heads forced the two managers at gunpoint to open the safe before tying them up. Police said the two suspects used a silver handgun. No one was injured, but the suspects were still on the loose Tuesday morning.

---
"Ban Could Be Lifted On Unattended Cars Idling"

*NASHVILLE, Tenn. - Those who live in Nashville could soon be able to warm up their parked cars legally.
Currently, a Metro ordinance bans drivers from starting up their parked cars and letting them idle unattended.
Tuesday night the Metro Council will vote on a measure that would allow drivers with remote, keyless ignitions to warm up their cars. Tuesday will be the bill's third and final reading.

---
"Freezing Temperatures Dangerous For Homeless"

*NASHVILLE, Tenn. - Ice or no ice, when it's this cold out, it's dangerous. Emergency crews had to rescue one man who's been spending the night in the cold. Crews said the man needed treatment for exposure. With temperatures dropping overnight, police advised that everyone take shelter somewhere. Police said they are always on the lookout for anyone out in the cold when the temperatures reach below freezing.
---
Top Stories:
"Palestinians held in Dubai over Hamas militant murder"
*DUBAI — Dubai police said Tuesday it is questioning two Palestinians suspected of involvement in the murder of a top Hamas militant, after having named an 11-member hit team travelling on European passports. The two men, both residents of the United Arab Emirates, had "fled to Jordan" after Mahmud al-Mabhuh was found dead in a Dubai hotel room on January 20, police chief Dahi Khalfan told AFP.
He said they were extradited from Jordan "three days ago," pointing to a "strong suspicion" against one of the two who had met a member of the suspected hit team before the assassination. Khalfan announced on Monday that police were hunting six British passport holders, three with Irish passports, including a woman, and the holders of a German and a French passport, all of whom had managed to leave the UAE. The Palestinian Islamist movement Hamas, which rules the Gaza Strip, has accused Israel of killing Mabhuh, 50, and vowed revenge. Its members have said that Mabhuh, who was based in the Syrian capital, was on a visit to Dubai to buy weapons for the militant group's armed wing of which he was a founder.

---
" Clinton: Iran Nuke Could Trigger Nuclear Arms Race in Middle East"

*Secretary of State Hillary Clinton said Tuesday that if Iran acquires a nuclear bomb it could trigger a nuclear arms race in the Middle East, which would create "dangerous" problems in the region.
Clinton, speaking to an audience of Saudi students at a women's college in Jeddah, ticked off a list of Iranian violations she said pointed toward its pursuit of nuclear arms, including the construction of a covert uranium enrichment facility in Qom.
"Everyone who I speak with in the Gulf, including the leaders here and leaders elsewhere in the region, are expressing deep concern about Iran's intentions," she said, calling Iran "the largest supporter of terrorism in the world today."
If Iran gets a nuclear weapon, she said, the hope of a nuclear-free Middle East disappears "because then other countries which feel threatened by Iran will say to themselves, 'If Iran has a nuclear weapon, I better get one, too, in order to protect my people.'
"Then you have a nuclear arms race in the region," she said.
Clinton's warnings came as Israeli Prime Minister Benjamin Netanyahu called for "paralyzing sanctions" against key parts of Iran's energy sector, the Interfax News Agency reported, according to Reuters.

---
CELEBRITY NEWS:
"JOHN MAYER OFFERED PORN GIG"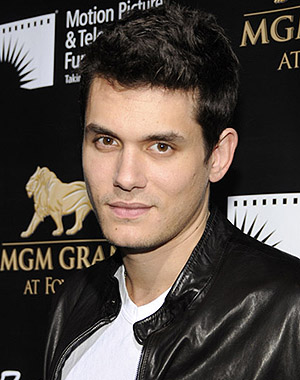 *John Mayer's big mouth has landed him an X-rated opportunity.
In that now-infamous interview with Playboy, John said his dream is to write pornography. And now Vivid Entertainment wants to make Johnny's dream come true. The X-rated company sent a letter to the musician offering him the opportunity to write and direct one of their skin flicks. But, alas, his publicist says John won't be accepting the offer.

---
"JEFF BRIDGES, MAGGIE GYLLENHAAL & SIR ELTON JOHN AT CRAZY PARTY"

*Oscar-nominated stars Jeff Bridges and Maggie Gyllenhaal celebrated the music of Crazy Heart Monday night at a star-studded party at Vibrato in Los Angeles' exclusive Bel Air area.
Also spotted at the bash were Sir Elton John, Robert Duvall, Jon Hamm, Brenda Vaccaro, and Gyllenhaal's actor brother, Jake. The celeb-heavy crowd was treaded to a performance of the film's Oscar-nominated theme song, "The Weary Kind," by Ryan Bingham and T-Bone Burnett. Bridges also played three songs from the film and Elton John and Harry Dean Stanton later jumped on stage, playing piano and harmonica, respectively.

---
"NICOLE RICHIE, JOEL MADDEN GETTING HITCHED"

*Nicole Richie and Joel Madden are getting married.
Nicole made the announcement yesterday on the Late Show With David Letterman, saying she and Joel are engaged and planning to walk down the aisle. The couple have two children together and have been dating for three years.
---
"TIGER WOOD'S MISTRESS WAS PREGNANT TWICE"

*We have another bombshell in the Tiger Woods' sex scandal.
In an interview with Inside Edition, one of the disgraced golfer's alleged mistresses claims he knocked her up -- twice. Porn star Joslyn James, whose relationship with Tiger lasted from 2006 to 2009, says she miscarried her first pregnancy around the time Elin Nordegren gave birth to the couple's first child in 2007. James says she aborted the second pregnancy around the time Tiger's second child was born last February. She tells Inside Edition, "I just didn't want to ruin anything."
---
"BRITTANY MURPHY FOUNDATION RETURNING DONATIONS"

*The foundation created in memory of Brittany Murphy has shut down and all donations are being returned. After T-M-Z broke the news over the weekend that the Brittany Murphy Foundation, created by her husband Simon Monjack and mother Sharon Murphy, hadn't filed the necessary document to qualify as a charity or non-profit, the organization's website shut down. Then late Sunday it re-appeared with a message saying all donations will be returned "until we have our non-profit status approved."
---
"OCTO-MOM GOES ON A DATE"

*Octo-Mom Nadya Suleman went on her first date in years Saturday. The lucky guy, according to Radar Online, is a friend of one of the nannies who care for the octuplets. A-J brought the mother of 14 flowers and chocolates before they headed to a park near her La Habra, California home for a picnic. Afterwards, the two had dinner at a Joe's Crab Shack. Perhaps not coincidentally, Nadya has been reportedly talking with the Game Show Network about a T-V project, possibly a dating show. And she was recently on Jimmy Kimmel Live in a Dating Game spoof.

---
Relationship:
"What your heart and brain are doing when you're in love"
*(CNN) -- Poets, novelists and songwriters have described it in countless turns of phrase, but at the level of biology, love is all about chemicals. Although the physiology of romantic love has not been extensively studied, scientists can trace the symptoms of deep attraction to their logical sources. "Part of the whole attraction process is strongly linked to physiological arousal as a whole," said Timothy Loving (his real name), assistant professor of human ecology at the University of Texas, Austin. "Typically, that's going to start with things like increased heart rate, sweatiness and so on,"
When you catch sight of your beloved and your heart starts racing, that's because of an adrenaline rush, said Dr. Reginald Ho, a cardiac electrophysiologist and associate professor of medicine at Thomas Jefferson University Hospital in Philadelphia, Pennsylvania.
Here's how it works: The brain sends signals to the adrenal gland, which secretes hormones such as adrenaline, epinephrine and norepinephrine. They flow through the blood and cause the heart to beat faster and stronger, Ho said. The response is somewhat similar to a fast heartbeat while running on a treadmill, although exercise has other benefits, he said. For people with serious heart problems, love could actually be dangerous, Ho said. That's because when the heart rate goes up, the heart uses more oxygen, which can be risky for an older person with blood vessel blockages or who has had a prior heart attack. But good medicines such as beta blockers help curb the adrenaline response, Ho said. It is also likely that norepinephrine, a stress hormone that governs attention and responding actions, makes you feel weak in the knees, said Helen Fisher, professor at Rutgers University and author of the book "Why Him? Why Her? Finding Real Love by Understanding Your Personality Type." Fisher's research team did brain imaging of people who said they were "madly in love" and found activity in the area of the brain that produces the neurotransmitter dopamine. Dopamine and norepinephrine are closely related.

---
A health note:
"Hormone-infused nasal spray found to help people with autism"

*A nasal spray containing a hormone that is known to make women more maternal and men less shy apparently can help those with autism make eye contact and interact better with others, according to a provocative study released Monday.
The study, involving 13 adults with either a high-functioning form of autism or Asperger syndrome, a mild form of the disorder, found that when the subjects inhaled the hormone oxytocin, they scored significantly better on a test that involved recognizing faces and performed much better in a game that involved tossing a ball with others. Although more research is needed to confirm and explore the findings, the results are the latest in a growing body of evidence indicating that the hormone could lead to ways to help people with the often devastating brain disorder function better.
"This is the first study that looked at whether oxytocin has an effect on social behavior, which is a major deficit in autism," said Angela Sirigu, who directs the National Center for Scientific Research in France and led the study, published online by the Proceedings of the National Academy of Sciences. "It looks like it could be very helpful." Researchers who were not involved in the study praised the work, saying the findings were promising and could lead to the first effective treatment for the central problems affecting people with autism. "I think it's going to be a very exciting finding for a lot of people," said Alex Martin, chief of cognitive neuropsychology at the National Institute of Mental Health. Because oxytocin does not last long in the body and produces its effects for a relatively brief period, some experts said the findings were more likely to encourage drug companies to develop alternative substances that had the same benefits. "This paper suggests that's worth doing," said Thomas R. Insel, director of the institute. "It adds another brick in the wall that suggests there may be an opportunity to develop treatment for one of the core symptoms of autism. That's been the brass ring."

---
Today in Black History:
"Frazier Takes the Title"

*On February 16th, 1970, Joe Frazier knocked out Jimmy Ellis in the second round of their fight in New York and became the world's heavyweight boxing champion.

---
Mess of the Day:
Time To Get Checked

FLAVOR FLAV!!!! Unfortunately everyone in this picture, this Walmart, and now everyone who looks at this picture just got one of the many VD's that were passed around in the Flavor of Love shows.- Nevada
---
Thought for the day:

"You have to have confidence in your ability,and then be tough enough to follow through." ~ Rosalynn Carter