Local Buzz:
"UPDATE: Child Killed After Vehicle Hits Deer"

*BELLEVUE, Tenn. – A 10 year-old girl was killed in what's being called a freak accident. Around 8:30 p.m. Wednesday on Highway 100 near Old Hickory Boulevard, a father and his four children - ages 9 to 13 - were driving in a car when a deer jumped out in front of them. The car hit the deer, and the animal went through the windshield.The father's 10 year-old daughter, who was seated in the back, was killed. The man and his other three children were treated and released at Vanderbilt University Medical Center. Late Wednesday night, Metro Police Captain Harmon Hunsicker called the situation a freak and tragic accident.
"There are signs up that say, watch for deer, but you really can't anticipate with the darkness having one jump out and hit a vehicle just like this," Hunsicker said.
The identity of the victim and her family has not been released.

---
"Vanderbilt University Sends Bogus Acceptance E-mails"

*NASHVILLE, Tenn. - For graduating high school seniors getting that acceptance letter is a great feeling, but for students who applied to Vanderbilt University - their acceptance letter was a big letdown.
Last week, courtesy e-mails went out to international students who had been accepted early admission to Vanderbilt University.
The university sent e-mails so students wouldn't have to wait for their actual letters to come in the mail, but those e-mails weren't what they seemed to be.
Turns out an employee accidentally sent the e-mail to all the applicants, including 56 international students who were not accepted.
Vanderbilt University quickly realized the mistake, and within three hours sent out e-mails apologizing for the error.
---
"Cigarette To Blame For Senior Independent Living Fire"

*MADISON, Tenn. - Fire investigators said they believe a person smoking a cigarette started a fire at Chippington Towers II in Madison on Wednesday.
The fire broke out on the 4th floor of the senior independent housing on Coreland Drive around 8:30 a.m. Wednesday, but smoke was reported on other floors.
Sky5 was on the scene, and the video showed there were never any visible flames or smoke coming from the building.Residents on the 3rd, 4th and 5th floors were evacuated, and three residents were transported to the hospital with minor smoke inhalation.Third floor resident Jeff Meade heard the fire alarm and peered out of his apartment."With the firemen there, they started telling everybody they had to get out. So I packed up and got out!," Meade said.Firefighters were able to put out the fire around 9:15 a.m., and the Nashville Fire Department said the tower's sprinkler system played a large part in helping extinguish the fire.
The tower only suffered some water and smoke damage.

---
Top Stories:
"Plane crash kills 3 Tesla Motors employees, striking fear in East Palo Alto neighborhood"
*A fog-shrouded East Palo Alto neighborhood was thrown into chaos Wednesday when a twin-engine Cessna crashed shortly after an early-morning takeoff, spilling wreckage and bodies onto a quiet bayside street — and triggering a massive outage that turned high-tech Palo Alto into a powerless island for 10 hours.The pilot and two passengers — all employees of Tesla Motors — were killed and three houses were damaged, including a home day care center.
The plane brought down a high tension transmission tower, then broke apart in a dramatic and terrifying descent over the East Palo Alto neighborhood. A wing slammed into the day care, landing gear smashed into a garage, an engine careened into a carport and the fuselage skidded to a halt in the middle of Beech Street. Flames shot out from houses and debris. Miraculously, nobody on the ground was injured. Pamela Houston and six others fled from the day care as the plane came crashing down shortly before 8 a.m."I grabbed the baby, and we ran into the street," she said. "We were all crying; we were screaming. There is not any word to describe the feeling.''Authorities had not released the identities of any of the victims by late Wednesday. Authorities have also yet to identify who was piloting the plane, but the Cessna 310R was registered to a former Santa Clara company that was started by Doug Bourn, a Tesla engineer.
Read more: http://www.mercurynews.com/ci_14422231?source=most_emailed&ncli...

---
"Duke Rape Accuser: 'I'm Going to Stab You [Expletive]!"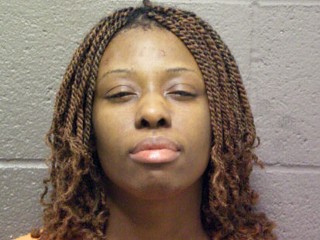 *The woman who was at the center of the phony Duke lacrosse rape case was arrested today and charged with attempted murder.
The Durham Police Department told ABC News that Crystal Gale Mangum got into an argument with her boyfriend, Milton Walker, shortly after midnight on Thursday. The arrest warrant claims that Mangum, 33, scratched, punched and threw objects at Walker before taking all of his clothes and setting them on fire in a bath tub. Firefighters were sent to the home to extinguish the blaze.
Police said they had to evacuate three children, ages 10, 9 and 3, from the apartment because of the fire. It was not immediately known whose children they were. Mangum is charged with first-degree attempted murder for communicating a threat because she allegedly told Walker in front of officers, "I'm going to stab you [expletive]!"

---
"Obama Unveils Plan for Commission to Tackle Federal Deficit"

WASHINGTON—President Barack Obama on Thursday created a bipartisan commission to confront what he calls the federal deficit's "disturbing" trajectory.
The spotlight now turns to Republican lawmakers, who haven't confirmed that they're willing to participate. In remarks at the White House, Obama outlined the structure of the panel and formally introduced the men picked to lead it—former Republican Sen. Alan Simpson and former Clinton White House Chief of Staff Erskine Bowles. Mr. Obama said the commission is designed to overcome the partisan politics that have kept lawmakers from dealing with the ballooning deficit in the past. "For far too long, Washington has avoided the tough choices necessary to solve our fiscal problems," Mr. Obama said.
Republicans were waiting to see the details of the 18-member panel before committing to it. The panel will include 12 members appointed by the leaders of the U.S. House of Representatives and Senate, and six appointed by Mr. Obama. White House spokesman Robert Gibbs said Mr. Obama directly asked House Republican Leader John Boehner (R., Ohio) and his counterpart in the Senate, Mitch McConnell (R., Ky.) to appoint members of the commission. He pointed out that both lawmakers have supported a version of the commission in the past.
"What the Republicans decide to do is largely up to them," Mr. Gibbs said.
The goal of the commission is daunting—slashing the deficit to around 3% of gross domestic product by 2015, from its projected perch of 10.6% in the current fiscal year. The White House has suggested that nothing, including middle-class tax cuts, will be off the table in the commission's deliberation, despite Mr. Obama's pledge not to boost taxes on households making less than $250,000. The panel's recommendations must be reported to Congress by Dec. 1, following the mid-term elections.

---
Celeb News:
"TIGER IS OUT OF HIDING AND READY TO TALK"

*Tiger Woods is finally breaking his silence. The disgraced golfer will hold a press conference Friday at 11 a-m from the clubhouse of the T-P-C Sawgrass golf course in Ponte Vedra Beach, Florida.His agent, Mark Steinberg, tells the A-P, "This is all about the next step. He's looking forward to it." A statement on Tiger's website says, "While Tiger feels that what happened is fundamentally a matter between him and his wife, he also recognizes that he has hurt and let down a lot of other people who were close to him. He also let down his fans. He wants to begin the process of making amends, and that's what he's going to discuss."
Tiger was spotted in public for the first time since the sex scandal broke in November. He was photographed jogging yesterday near his Orlando, Florida home.

---
"JON GOSSELIN, TLC SETTLE"

*Jon Gosselin and T-L-C have settled their differences.
T-L-C announced yesterday that the network has reached a settlement with the former star of Jon and Kate Plus Eight. Terms of the settlement are being kept confidential. Last year, T-L-C filed a breach-of contract suit against Jon for making unauthorized T-V appearances. The father of eight then filed a counterclaim, accusing the network of damaging his career.
A source tells People magazine that the network "hopes they will soon be able to film the family again," but Jon and Kate Plus Eight won't resume.

---
"KIM KARDASHIAN TWEETS TOO MUCH"

*Kim Kardashian did something pretty stupid on a recent flight from New York to L-A. She supposedly outed the plane's undercover Air Marshal -- a big no-no. While in the air, Kim K. tweeted, "I'm on the airplane...love Wi-Fi! I am sitting next to an Air Marshal! Jim the Air Marshal makes me feel safe!" The tweet was met with criticism, since the identity of Air Marshals are kept secret for security reasons.

---
Good News:
"MRS. OBAMA HEADED TO FOX"

*Mike Huckabee, of the conservative Fox News network, will host an unlikely guest this weekend -- Michelle Obama. The former Arkansas governor and republican presidential contender will have the first lady on to discuss her recently launched "Let's Move" anti-obesity campaign focusing on America's youth. Huckabee, who lost more than 100 pounds himself and wrote about it in Quit Digging Your Grave With a Knife and Fork: A 12-Step Program to End Bad Habits and Begin a Healthy Lifestyle, tells U-S News and World Report, "It is not a left/right, liberal/conservative, Democrat/Republican issue. This is an issue that falls beyond what I call the 'horizontal' issues of left and right and rises to the 'vertical' level of up or down."

---
Relationship:
"TOP 10 WAYS COUPLES MEET"
*There is no "right" way to meet someone, but there are certainly some common factors that bring people together.
According to a survey by Pew Research Center, here are the most common ways couples meet.
1-At work or school -- 38%
2-Through friends or family -- 34%
3-At a nightclub, bar, or party -- 13%
4-Other ways -- like they grew up together -- 6%
5-On the Internet -- 3%
6-At church -- 2%
7-By chance, like on the street -- 1%
8-They're neighbors -- 1%
9-At the gym -- 1%
10-Through a dating service -- 1%

---
A health note:"
We Don't Wash Our Sheets Enough"

*Most people won't wear a pair of underwear or socks two days in a row or even a shirt twice without washing it. But we sleep on bed sheets and pillow cases every night and go days, weeks, even months without washing them.According to a recent British survey, half-a-million Brits wash their sheets only three times a year. The biggest culprits were the under-25 crowd.Those over the age of 55 were the cleanest folks, washing their sheets three times a month.Consider these facts ... Experts say up to 10-percent of the weight of an unwashed pillow can be made up of dead skin and mites, with a dirty bed having about ten million bedbugs. Experts recommend changing bedding once a week.
Question?? : How often do you wash your bed sheets?

---
TODAY'S BLACK HISTORY MOMENT:
"Germantown Protest"

*On February 18th, 1688, the first formal protest against slavery and the slave trade was held by Quakers in Germantown, Pennsylvania.

---
Mess of the Day:
"Clean On The Outside"

*Don't have any room for your kid's snacks in your purse? Eatable Undies are a convenient way to satisfy your kid's hunger in an easy transportable way!~ Unknown

---
Thought for the day:

" When someone becomes a part of us, letting go is a loss we feel. We naturally don't like change and we don't like to feel sadness or loss so we tend to settle for what makes us feel better, even if it's in a failing situation and in our rational minds we know we shouldn't. You have to be willing to experience the loss and let go. You have to decide that you want more for yourself and when you have, that's when you begin to heal and time will do the rest."~©2010 T. Gordon