Local Buzz:
"Candidates for Governor Square Off on News Channel 5"

*Nashville, Tenn. - It will be a battle of wits at Belmont University Thursday night. Some of the top leading Republicans and Democrats running for governor will share their opinions during the first major gubernatorial forum of 2010. Both Democrats and Republicans will be on the stage at Belmont's Curb Event Center. The goal of the forum is to get a better understanding of what the candidates' plans are for Tennessee when it comes to education and economic development.Republicans who are running for governor and were invited to the forum will be Shelby County District Attorney General Bill Gibbons, Knoxville Mayor Bill Haslam, current Lt. Gov. Ron Ramsey and congressman Zach Wamp.On the Democratic side of the table we have State Senate Democratic Leader Jim Kyle, former State House Democratic Leader Kim McMillan, and Jackson businessman and son of former Gov. Ned McWherter, Mike McWherter.
Thursday's debate has been scheduled to start at 7 p.m., and it will air on NewsChannel 5, NewsChannel 5+ and www.newschannel5.com.

---
"Stolen Tenn. Bluecross Hard Drives Affect 220,000"

*CHATTANOOGA, Tenn. (AP) - An ongoing investigation shows that computer hard drives stolen from BlueCross BlueShield of Tennessee in Chattanooga contain personal information on 220,000 members, and that count could more than double.
An e-mail statement Wednesday from the state's largest health insurer showed that as many as 500,000 members, including some in other states, could eventually be identified as facing a risk of identity theft. So far there is no evidence that any stolen customer data has been used.
Blue Cross and law enforcement agencies have been investigating an October theft of 57 computer hard drives. Some of them contain
Social Security numbers, birth dates, addresses and medical information.
BlueCross offered a year of free ID protection monitoring to those affected among its 3.1 million customers.

---
"Metro To Discuss Financing For Music City Center"

*NASHVILLE, Tenn. - The Music City Center project could take another big step forward Thursday.
Members of Metro's Budget and Finance Committee will meet to discuss the financing package for the proposed new downtown convention center.
The committee is expected to deliberate and make a recommendation on the financing package resolution for the full council.
The full council will then vote on the financing resolution at its next meeting on Tuesday.
The $585 million project would be Metro's most expensive ever.


---
Top Stories:

"UK aid workers arrive in Haiti to boost rescue efforts"
*British aid workers have begun arriving in Haiti to assist with rescue and relief efforts following the earthquake in the country on Tuesday.
An 80-strong rescue team was heading for the capital, Port-au-Prince, where a 7.0-magnitude quake is feared to have killed tens of thousands of people.
Gordon Brown said the earthquake was a "tragedy beyond imagination" and urged the public to support the appeals.
The UK Disasters Emergency Committee (DEC) has launched an appeal.
The prime minister said the search and rescue team had landed in the country.

---
"Haiti Earthquake: How You Can Help"

*Charitable Americans eager to help Haiti recover from the massive earthquake are being warned to be on the lookout for online scammers.
Two that are trustworthy are:
Texting HAITI to 90999
The U.S. Dept of State's Web site suggests texting to donate $10 to the Red Cross to help with relief efforts.
$10 will be charged to your cell phone bill. Or you can go online to organizations like the Red Cross and Mercy Corps to contribute to the disaster relief efforts.
Texting YELE to 501501
On Twitter, musician Wyclef Jean, a native of Haiti, notes, "Haiti needs your help and $5 will go toward earthquake relief."
Yele Haiti is a grassroots movement Jean has set up to inspire change in Haiti through programs in education, sports, the arts and environment.
Or visit:
Red Cross
www.redcross.org
You can make a donation by calling 1-800-REDCROSS
Catholic Relief Services
www.crs.org
1-888-277-7575

---
"Kirsten Gillibrand and Harold Ford Jr. Forced to Stand Next to Each Other"

*Yesterday, after Tennessean New Yorker Harold Ford Jr. sent a letter to Kirsten Gillibrand and Chuck Schumer asking them to "put the people of New York first" and vote against health-care reform, Gillibrand personally rebuked her potential primary challenger for the first time. Ford's "record of being anti-choice, anti-marriage equality, and now opposed to President Obama's health care legislation may be right for Tennessee," her statement reads, playing the carpetbagger card with gusto, "but I don't believe New Yorkers will stand for a senator that says they will oppose President Obama, just like the insurance companies want." Burn! But just as things started to get testy between the two, they both showed up to Al Sharpton's press conference on the Haitian earthquake relief efforts, where the awkwardness, area metaphysicists report, was nearly intense enough to create a tear in the space-time continuum.
Read more: Kirsten Gillibrand and Harold Ford Jr. Forced to Stand Next to Each Other -- Daily Intel http://nymag.com/daily/intel/2010/01/kirsten_gillibrand_and_harold.html#ixzz0cbLNCm68

---
Celeb News:
"BRAD & ANGIE DONATING A MILLION DOLLARS TO EARTHQUAKE RELIEF"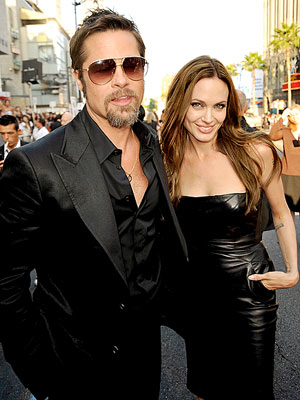 *Brad Pitt and Angelina Jolie's foundation is donating one-million dollars to help victims of the earthquake that has devastated Haiti.
Angelina says, "It is incredibly horrible to see a catastrophe of this size hit a people who have been suffering from extreme poverty, violence and unrest for so many decades."
The Jolie-Pitt Foundation is giving the money to Doctors Without Borders, whose three hospitals in Port-au-Prince were so badly damaged that the staff has to work out of open-air hospitals.

---
"HEIDI'S KIDNAPPING WAS JUST A "MISUNDERSTANDING"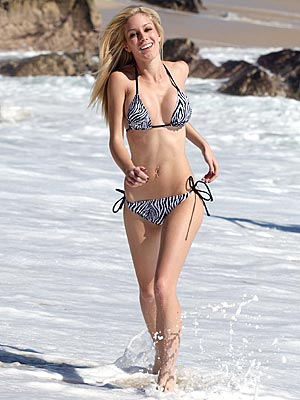 *There were reports yesterday that a man tried to kidnap Heidi Montag, but the drama turned out to be a false alarm. T-M-Z said a neighbor called 9-1-1 to report that someone tried to kidnap Heidi and that a man who works for hubby Spencer Pratt was arrested after police stormed the couple's house. But in a statement to People magazine, Heidi says the incident was just a "misunderstanding." She says she had her face covered with a scarf as she made her way home and the neighbor thought Heidi was in danger. T-M-Z says Heidi was covering her face because she recently had plastic surgery and didn't want to be photographed. In an interview with People magazine, Heidi says she's obsessed with plastic surgery. The wannabe pop star underwent 10 procedures on November 20th -- including a mini brow lift, Botox in the forehead, nose job revision, chin reduction and neck liposuction. Her new look cost upwards of 30-thousand dollars. Heidi says she needed the work to compete with the "Britney Spearses of the world." "Obviously, looks matter, it's a superficial industry."

---
"CONAN'S RATINGS INCREASE AMID TURMOIL"

*The late-night turmoil has been good for N-B-C -- in terms of ratings, anyway.
After Conan O'Brien rejected the network's plan to push the Tonight Show back a half-hour to make room for Jay Leno, he saw his ratings jump -- 42-percent more viewers between the ages of 18 and 49 watched on Tuesday from the day before. Conan is also seeing a groundswell of support online. As of last night, more than 60-thousand people have become fans of the Facebook page I'm With Coco, which is leading a campaign in support of the Tonight Show host.

---
"DEXTER STAR HAS CANCER"

*Dexter star Michael C. Hall revealed yesterday that he has cancer.
The 38-year-old says, in a statement, that he's been diagnosed with Hodgkin's lymphoma, a "treatable and curable condition," and that he's almost finished with treatment. His spokesman says Hall's cancer is in remission. Hall is nominated for a Golden Globe for his role on the Showtime series.

---
Black History:
"Sanford and Son Premieres"

*On January 14th, 1972, Sanford and Son premiered on N-B-C. The groundbreaking sitcom gained immediate popularity by depicting an African-American father and son engaged in the junkyard business and made comedian Red Foxx a household name. Norman Lear and Bud Yorkin developed the comedy series based on the British Steptoe and Son.

---
Good News:
"Obama Gets Some Good News on Economy, Terror Fight"

*President Obama has encountered strong headwinds in his seven months in office, with the nation's unemployment rate undermining support for his economic vision, Republicans questioning his resolve to battle terrorists, and his plans for health-care reform facing skepticism in Congress and across the nation.
But the president scored a welcome break in that creeping narrative Friday, as the nation's unemployment rate dipped for the first time in 15 months and word came that a CIA-launched missile had apparently killed a terrorist leader in Pakistan.
The twin successes, however fleeting they prove to be, come at a fortuitous moment for the White House, which has been stepping up the defense of its economic and anti-terrorism policies in the face of unrelenting Republican criticism. Polls show that the GOP's doubts are beginning to take hold among the public, with support for both Obama and his policies eroded.
The news that the unemployment rate had dropped slightly -- from 9.5 percent to 9.4 percent -- even as the economy shed nearly a quarter-million jobs in July, was greeted by Obama as the latest sign that the deep recession that has gripped the nation since 2007 is beginning to ease.
"We're pointed in the right direction. We're losing jobs at less than half the rate we were when I took office," Obama told reporters in the Rose Garden. "We've pulled the financial system back from the brink, and a rising market is restoring value to those 401(k)s that are the foundation of a secure retirement."

---
Relationship:
"MAKE YOURSELF APPROACHABLE"
*No one asking you out? It's possible you're sending out "stay away" signals. C'mon, ladies -- it takes guts to approach a gal, so give a guy a break and show him you're open with these five tips to making yourself approachable ...
1. Uncross your arms. You can come across as unhappy and standoffish with your arms crossed in front of you like a shield.
2. Make a little eye contact. You don't have to stare like a crazed stalker -- but a casual look in his direction won't hurt.
3. Look bored. If you appear to be having a grand ol' time, he might not want to interrupt.
4. Smile. Yes. A simple smile makes you more approachable -- it's the opposite of crossed arms.
5. Don't bring a guy as your wingman. If you do, you don't look like you're out to meet someone ... so why would anyone approach?

---
A health note:
"US obesity rates reaching a resting point, studies show "

*Americans may not be collectively doomed to die in their recliners after all, one hand in the chips bag, the other stretching for the remote. Obesity levels seem to be leveling off or slowing across most of the population, according to two new comprehensive studies of the nation's heft.
The assessments, from the Centers for Disease Control and Prevention, are a welcome respite from the seemingly endless reports of Americans getting fatter and fatter. The latest of several to find an obesity plateau, they suggest that those earlier findings were not aberrations but that Americans may truly have turned a corner.
But it's not time to reach for the cookie jar yet. Though abundant messages about eating smaller portions and getting regular exercise may finally be registering, health experts say there's more to be done before the fattening trend is not merely halted but reversed -- more policy changes, community programs and support groups.
Americans are still among the chunkiest folks on the planet, with 68% of adults overweight or obese.
"This is not a cause for complacency or celebration," says Dr. William H. Dietz, director of the Division of Nutrition, Physical Activity and Obesity at the CDC, "but it is cause for modest optimism."
One of the new studies, both released online Wednesday in the Journal of the American Medical Assn., examined height and weight data in a nationally representative sample of 5,555 adult Americans collected in 2007 and 2008. In the sample, 33.8% of the subjects was obese.
Those numbers were compared to ones collected from 1999 to 2006 in a similar sample. Among women, obesity statistics remained fairly flat throughout the period encompassed by the two studies. Obesity rates among men rose slightly during the decade, but leveled off in the later years.

---
Mess of the Day:
"An Issue With NeNe's Na-Na?"
*NeNe Leakes was never voted the "most classy" Real Housewife of Atlanta -- but this is a bit much even for her.

---
Thought for the day:

"God whispers to us in our pleasures, speaks in our conscience, but shouts in our pains; it is His megaphone to rouse a deaf world." - C. S. Lewis